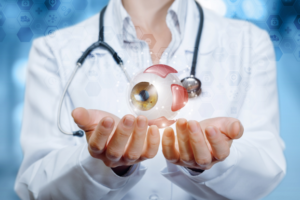 Working with eyes to care for and help restore vision is a rewarding career. Here's what Dr. Cheryl Roell had to say about why she and her husband, Dr. Dave Roell—the optometrists at All About Eyes—chose this career path:
"I was fascinated with the eye and the fact that I could see so clearly after my first eye exam and getting glasses at age 12 that I decided then that I wanted to be an optometrist to help everyone else see as clearly! Dave decided in college that he wanted to pursue optometry as a career after deciding that medical school was not the path he wanted."
There are three main career paths in the eye-care field—opticians, optometrists, and ophthalmologists—each requiring different levels of expertise and education for their speciality.
What Does an Optician do?
Opticians are the technicians who work with you to fit your eyeglass lenses and frames or contact lenses according to the prescriptions provided by either an optometrist or ophthalmologist (we'll get to them next). They do not provide eye exams, however. Opticians are required to have a high school diploma (or equivalent) and receive on-the-job training. Many opticians choose to pursue an associate degree or technical training in the field as well.
Optometrist vs. Ophthalmologist
Both optometrists and ophthalmologists are doctors who provide eye exams and various other vision tests. They both diagnose, manage, and treat vision issues, eye injuries, eye abnormalities, and eye-related diseases, as well as prescribe corrective lenses and medications as needed.
So… what's the difference?
While they are both doctors and spend eight years getting their higher-education degrees, optometrists receive their Doctorate of Optometry (O.D.) rather than a medical doctorate, which is the degree ophthalmologists receive. Optometrists can perform minor surgeries to the eye in most states but are not licensed to perform major surgeries such as cataract surgery or retinal surgery.
If you're interested in the eye-care industry, here are some useful resources to check out: