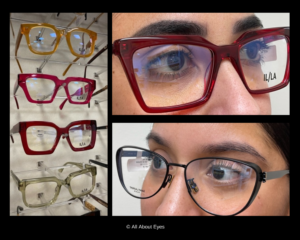 Retro, oversized angular lines, sustainability, and tinted lenses will be all the rage in 2023 when it comes to eyewear trends according to the latest trend report from Glasses USA and the Vision Council.
Prepare to step into the 1970s with styles like aviator, cat-eye, hexagonal and rectangular frames. And it wouldn't really be like the 70s if we didn't have tinted lenses to go with them too, right? Tint colors making a comeback this year on the fashion runways and Coachella are yellow, orange, and red.
While the styles and lenses are a throwback, the materials for the frames are eco-friendly. In a push to embrace sustainability in fashion, eyewear manufacturers are using materials like bio-acetate, cork, coffee, natural wood, and recycled plastics. Be on the lookout for rose-gold wire frames besides the more traditional silver and gold tones.
Another trend athletic influencers are sporting is racer-style wrap-around frames for sunglasses.
Come on over to All About Eyes to shop for your new glasses!