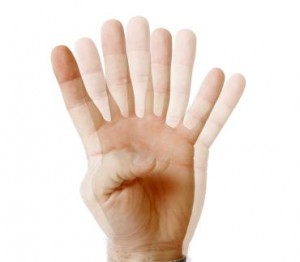 As the name suggests, double vision, called diplopia, is when you see two images of a single object. Double vision can happen in one eye (monocular) or both (binocular). The treatment for diplopia will largely depend on the type you have, and the underlying cause.
Diagnosis
To detect if diplopia is in one eye or both, your eye-care professional will cover one eye at a time during their exam and may use prisms to see what the level of double vision is. Not surprisingly, it is easier to detect in adults, as they can describe what they're seeing. With children who are unable to talk about their vision, parents may need to watch for various behaviors: squinting, covering one eye to look at things, head tilting, or looking at things sideways.
Monocular Diplopia
According to Harvard Health, the causes of double vision in one eye can be cataracts, astigmatism, keratoconus (where the cornea becomes cone-shaped), pterygium (a growth of tissue on the eyeball), dislocated lens, swelling or mass in the eyelid, or dry eyes (Sjogren's disease, etc.).
Binocular Diplopia
The causes of double vision in both eyes can be strabismus (crossed eyes), nerve damage, diabetes, myasthenia gravis (neuromuscular/autoimmune illness), Graves' disease (hyperthyroidism), multiple sclerosis, migraines, stroke, or trauma (black eye).
Treatment
As mentioned above, treatment of diplopia largely depends on what is causing it. If other diseases such as diabetes, Sjogren's, Grave's, etc., are at the root of the problem, those conditions will need to be treated independently, and then the double vision problem can be revisited with your eye-care professional. For other issues — such as trauma, cataracts, or astigmatism — surgery or lens correction may resolve the double vision.