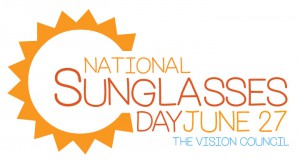 It's that time of year again:  time to break out your sunnies and celebrate National Sunglasses Day on Tuesday, June 27. Don't have any sunglasses? Not to worry! All About Eyes has you covered. We are running a special two-week promotion on sunglasses starting on Thursday, June 22, and running through to Saturday, July 8! 
All About Eyes is happy to work with the sponsors of National Sunglasses Day, the Vision Council, in raising awareness about the importance of wearing sunglasses to protect eyes from the sun's ultraviolet (UV) rays. UV radiation is well-known to cause sunburns and skin cancer, but according to the Vision Council, "Most people don't realize the damaging impact the wavelengths inflict on their vision."
Temporary issues from unprotected UV exposure can cause swollen, red eyes and hypersensitivity to light. Years of unprotected exposure, however, can cause cancer to the eye and eyelid, and accelerate conditions like cataracts and age-related macular degeneration.
So be smart and protect your eyes! Wear your sunnies — not just for National Sunglasses Day but every day — and drop by All About Eyes to pick up the latest fashions!