We have a lot of blog posts here at All About Eyes that mention and/or encourage our visitors to get a comprehensive eye exam. So we thought we take this opportunity to talk about what it is and why it's important to not just your eye health, but your overall health as well.
The first phase of the comprehensive eye exam focuses on your vision and any issues you may have there. The second phase of the exam evaluates your eye health.
What is a Comprehensive Eye Exam?
At the start of the visit, a technician will have a medical history conversation with you and will perform a pre-test using an autorefraction machine that measures the eyes for the preliminary prescription and also does keratometry, an examination of the curvature of the eye itself. This is useful in determining astigmatism. Then they perform what's called tonometry with the non-contact tonometer (no drops needed). A tonometer is used to apply a puff of air onto the eye to measure eye pressure and is used to determine if you have glaucoma.
If the results from that test are high, then the doctor will apply numbing drops in the eyes and a further check of the intraocular pressure with an applanation tonometer will happen. Applanation tonometry uses a small lens to rest on the tear film/cornea to check the pressure. This test is usually painless and quick.
The other tests offered during pretesting are the Optomap digital retinal imaging which gives a wider, more complete picture of the retina and can detect problems not seen with the other tests. All About Eyes also uses an ocular coherence tomographer (OCT) which is a non-invasive imaging machine used to check the layers of the retina. It is beneficial for early glaucoma detection and in diagnosing macular problems.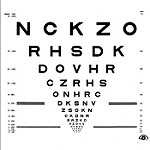 A visual acuity test will be given, where you will be asked to read off rows of random letters that gradually decrease in size until you reach a point to where you can no longer read with certainty. Also in included in the visual acuity testing are checking your vision for color blindness (if any) and 3-D testing to check your depth perception.
In the visual mobility tests, your practitioner will use various instruments (lights, eye covers) to see how your eyes are working. They will watch for eye muscle movements, check your peripheral (side) vision, and for your pupils' response to light.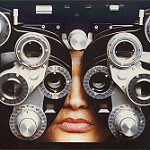 A phoropter is a refractor machine that determines the lens power needed for glasses (nearsighted, farsighted, and/or astigmatism). The doctor will give you an option of which lens looks clearer ("one or two") and this helps to set your prescription for glasses or contact lenses if needed.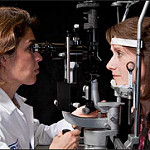 To look at the back of the eye, the doctor will use a small, high magnification lens in addition to a biomicroscope. The biomicroscope, also called a slit lamp, is used to shine a light onto the eye so that its structure can be examined up close. This binocular microscope looks at all the areas towards the front of the eyes: eyelids, cornea, conjunctiva, iris (colored area), and the lens itself. This test can detect many diseases including cataracts, macular degeneration, corneal ulcers, and diabetic retinopathy. Sometimes dilating drops are necessary during this exam if the patient has tiny pupils, is very light sensitive, or they have retinal problems.
Why are Comprehensive Eye Exams Important?
First and foremost, as the American Optometric Association says, annual comprehensive eye exams can help with early diagnosis of vision issues which can help to prevent vision loss. Quite simply, they help to save your sight.
But, as we talked about in our article, Eye Checkup = Health Checkup, a comprehensive eye exam can also go a long way toward early detection of other major health issues such as stroke, heart disease, and sexually transmitted diseases, to name a few.
So schedule an appointment with either Dr. Dave Roell or Dr. Cheryl Roell today!