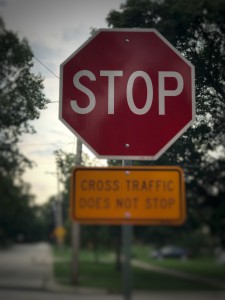 The beginning of the new school year for high schoolers often means the start of driver's education courses and getting permits for most teenagers. While most kids focus on passing the written portion exam for their permit, there's another, equally important exam to pass: the vision test. As part of the permitting process, eye exams are given at the state's motor vehicle facility to ensure that peripheral (side) and distance vision are up to the task of driving.
It can also be a time when teens and their parents first learn about myopia, or "nearsightedness."
As children grow into their teenage years, their eyes grow as well, and this can change the shape of the eye. This, according to the Mayo Clinic, causes light rays to bend (refract) incorrectly, focusing images in front of your retina instead of on your retina. Thus, making objects farther away, blurry. Objects like road signs and license plates in the car ahead.
Nearsightedness is a rapidly growing concern in the United States. From 1972 to 2004, myopia in people ages 12-54 increased from just 25 percent of the population to nearly 42 percent, according to the National Eye Institute. Why? Computers and hand-held devices are the culprits. The Nielsen Report, which monitors media usage, says that Americans are now spending upwards of 11 hours a day on their devices, up from 10 hours a day last year. All this time spent on computers and smartphones is causing problems for people in their distance vision.
Myopia, for some people, can be associated with other eye disorders like cataracts, glaucoma, and retinal detachment. Signs of the condition include squinting, eye strain, headaches, and feeling tired when driving. Nearsightedness can be corrected with prescription eyeglasses, contact lenses, and in some cases, refractive surgery.
Schedule a comprehensive eye exam today!