National Sunglasses Day will be on Wednesday, June 27, and it is a perfect day to celebrate protecting your vision with your sunglasses!
Why Sunglasses?
Sunglasses — not just any sunglasses but specifically those with Ultra Violet (UV) protection — can help to protect your eyes against sunburn (yes, your eyes can get sunburnt), pterygium (abnormal growths on your eyes), potential cataracts, age-related macular degeneration, and squamous cell carcinoma (cancer).
What Are Symptoms of Sun Damage?
If you have been outside without sunglasses for a prolonged period of time or around highly reflective surfaces like lakes, the ocean, sand, or snow, you may find that your eyes are affected. The cornea, the outer layer of the eyeball, is like the top layer of skin on your body and can get sunburnt just as easily.
How do you know if your eyes are sunburnt? If you find they are red, swollen, and/or you have blurry vision and light sensitivity, your cornea may have been sunburnt. This is called photokeratitis. Your eyes may water and you may feel like you've got sand or grit in them. See your eye-care practitioner for eye drops and stay in a darkened room for at least a day to allow your eyes time to heal. The cornea will usually heal quickly.
How to Protect Your Eyes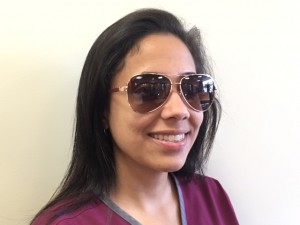 It's easy to protect your eyes, and stylish, too! All About Eyes has a variety of sunglasses to choose from and they are all UV protected.
And it's okay to go all "Hollywood" and wear your sunglasses on cloudy days, as the sun's UV rays are present then, too.
Join the fun, share your #SunglassesSelfie on #NationalSunglassesDay and wear your sunnies!