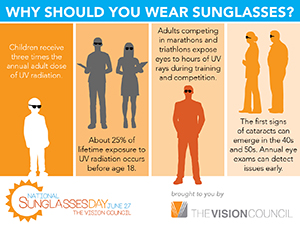 Help us celebrate National Sunglasses Day on June 27, 2015 by wearing your sunglasses every time you step outside. Whether it's a sunny day or a cloudy afternoon, your eyes need the protection that sunglasses provide. You'll want to chose a pair of sunglasses that are comfortable, provide maximum protection from UV rays (look for labels that say the lenses block 99-100% of UV rays), and are the right style for the activities you participate in. To help pick the right type of sunglasses for your lifestyle, The Vision Council provides sunglasses recommendations for adults, teens, and kids. Of course, you can always stop by our office and one of our associates will be happy to help you choose the right pair.
Who wears sunglasses?
Did you know that your age plays a big part in how frequently you wear sunglasses? According to The Vision Council's report Protection for the Naked Eye: Sunglasses as a Health Necessity, if you were born between 1965 and 1980, you wear sunglasses more often than any other living generation? Overall, 25% of Americans wear sunglasses rarely or never. That's 1 in 4 Americans who are at risk for sun damage to their eyes every time they are outdoors. Children are particularly susceptible to sun damage because they are outside more often and have larger pupils than adults.
 What are possible affects of sun exposure to your eyes?
Except for squinting due to glare, you don't feel immediate affects of the sun on your eyes, so it's understandable that you may not think the sun is harmful. Because the affects of the sun are often delayed, you may not associate age-related vision problems to years of sun exposure. Common vision problems that can be prevented by wearing sunglasses include: 
Cataracts

Macular degeneration

Sunburned eyes
Learn more about the five main reasons you should wear sunglasses in the summer, but don't put your sunglasses away when winter rolls around. Seeing life through tinted sunglasses doesn't just make you look cool, it keeps your eyes healthy!
Join in the Celebration
With prescription sunglasses, sport sunglasses, polarized sunglasses in hundreds, if not thousands of styles and colors, it's easier than ever to join in the celebration. Just remember to always buy a pair that blocks 99-100% of UV rays. If they don't block rays, they won't protect your eyes.
Stop by our office on June 27th to show off your sunglasses!