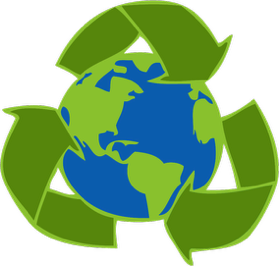 In honor of Earth Day, All About Eyes is proud to participate in TerraCycle and Bausch and Lomb's contact lens recycling program, which will allow patients to properly recycle their used contact lenses and blister packs at our office free of charge.
In our blog post last September, we talked about the latest study highlighting the negative impact that 45 million contact lens wearers disposing of their used lenses by way of flushing them down the toilet is having on the environment. And since the lenses cannot be included with regular recycling efforts due to their small size (they get filtered out), if they're not in the sewer system, they are ending up in our landfills. With over three billion lenses being improperly disposed of, we decided to see what we could do to raise awareness on this issue and provide a method of disposal as well.
How Does It Work?
The ONE by ONE Recycling Center box will be kept at our office. Patients are encouraged to  drop off the following items:
Used contact lenses
Opened blister packs (please remove as much water from the packs as you can)
Top foil
The cardboard boxes that contact lenses are in can be recycled through your usual recycling bins at home. Please do not drop off unopened blister packs, as those cannot be recycled at this time.
For more information on the program, see Bausch and Lomb's website.
What Happens Next?
All About Eyes will ship the recyclable items collected in our ONE by ONE Recycling Center to TerraCycle. They will sort the items, clean them at their facility, melt down the lenses and plastic portions of the blister packs so they can be remolded into plastic recyclable products. The metal layers and foils are separated and recycled.
Additionally, for every pound we collect at the ONE by ONE Recycling Center, $1 will be donated to Optometry Giving Sight. This organization is a "global fundraising initiative that specifically targets the prevention of blindness and impaired vision due to uncorrected refractive error."
Please joins us in our efforts to help keep the Earth clean and drop off your used contact lenses and blister packs!