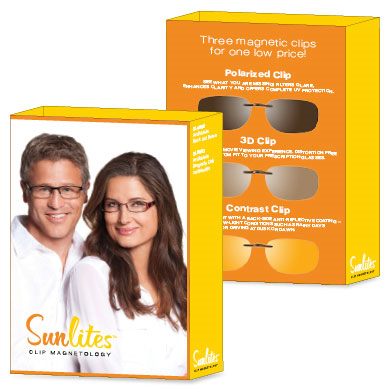 Did you know that the sun's rays can be just as damaging to your eyes in the winter as in the summer? According to The Vision Council, fresh snow reflects nearly 80% of UV radiation. If you enjoy skiing, sledding, snowboarding, snowshoeing, or just walking your dog on a sunny winter day, but you haven't purchased a pair prescription sunglasses, now is the time to do so.  The Vision Council says, "Anytime an individual is outdoors they should limit winter UV exposure by wearing appropriate UV protection," and we agree!
We know that not everyone wants the hassle of switching their eye glasses and sunglasses when they go in and out of doors. That's why we are pleased to announce the newest line of sunshades at All About Eyes. Altair Sunlites are durable, stainless steel frames for clear prescription lenses that come with an optional package of three rimless magnetic clip-on lenses:
A

polarized clip

to filter glare, improve clarity, and block UV rays

A

3D clip

so you can watch 3D movies without wearing bulky, uncomfortable 3D glasses when you go to the cinema (compatible with most passive technology 3D systems)

A

contrast clip with anti-reflective coating for low-light conditions when you still need protection from glare

The frames are attractive, with spring hinges and no bulky magnets. The clips are custom-fit for each Sunlites style, and sold in a set of three for one low price. Protect your eyes in comfort and style. Stop in today to see if Sunlites are a good fit for you and your lifestyle.